Founder Workshop 2023
September 21 @ 9:30

-

November 4 @ 18:00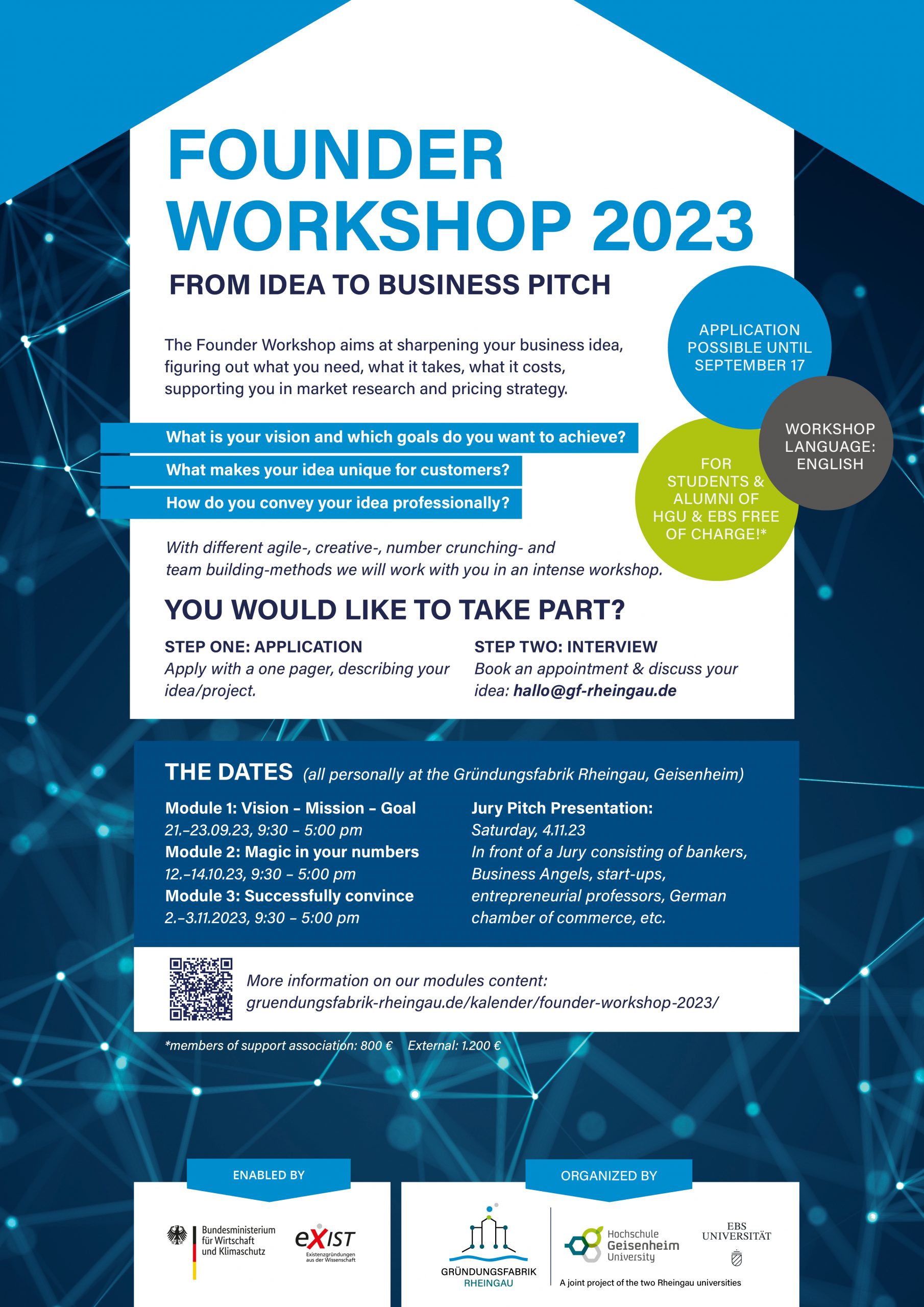 IMPORTANT INFORMATION: APPLICATION POSSIBLE UNTIL September 17
The Founder Workshop aims at sharpening your business idea, help you dive deep into your business model, figure out what you need, what it takes, what it costs, support you in market research and pricing strategy – in short: help you to professionalize and evaluate chances as well as risks. What is your vision, which mission and goals do you want to achieve, what makes your idea unique for customers and how do you convey your idea authentically professional to anyone interested to know more. With different agile-, creative-, number crunching- and team building-methods together with various experts we will work with you in an intense, personal workshop here in the Gründungsfabrik.
The Founder Workshop language: English
You want to take part in the FW2023?
Step one: Application
Apply with a one pager, describing your idea / project.
Step two: Interview
Book an appointment with our Founder coach Tatiana to discuss your idea:
FW2023 – THE DATES
Dates all personally at the Gründungsfabrik Rheingau, Geisenheim
Module 1: Vision – Mission – Goal 
Thu, 21.09.2023 09:30 – 17:00
Fri, 22.09.2023 09:30 – 17:00
Sat, 23.09.2023 09:30 – 17:00
Module 2: Magic in your numbers 
Thu, 12.10.2023 09:30 – 17:00
Fri, 13.10.2023 09:30 – 17:00
Sat, 14.10.2023 09:30 – 17:00
Module 3: Successfully convince
Thu, 02.11.2023 09:30 – 17:00
Fri, 03.11.2023 09:30 – 17:00
Jury Pitch: November Sat, 04.11.23
Present your Founding project in front of a professional Jury consisting of bankers, Business Angels, successful start-ups, entrepreneurial professors, German chamber of commerce, etc.
Free of charge for students, employees and alumni of the HGU and EBS.
Costs for members of the Förderverein Gründungsfabrik Rheingau 800€, for other external participants 1.200€. More information you can find here!