Sustainability StartUp Pitch Competition / Application
August 9 @ 8:00

-

August 30 @ 0:00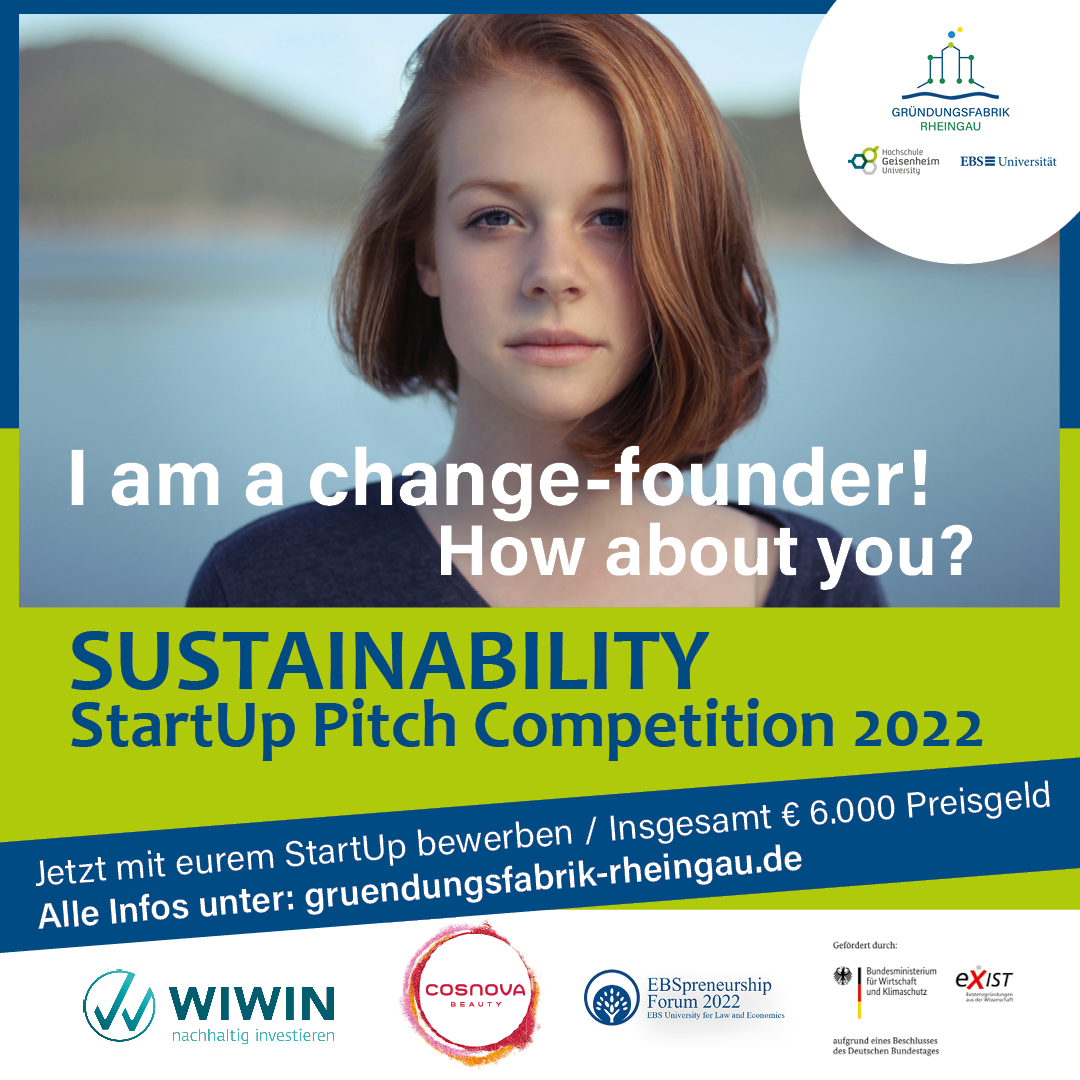 Are you young start-ups? Is your company in the early stages and active in a business field of sustainability? Would you like to present your early-stage StartUp to a lively community, get to know investors, impress the jury and win prize money?
In cooperation with the Gründungsfabrik Rheingau, the 14th EBSpreneurship Forum 2022 invites all promising start-up teams to participate in the Sustainability StartUp Pitch Competition 2022. This exciting competition will take place on 24 September 2022 as part of the EBSpreneurship Forum – a student-organised entrepreneurship event with the aim of bringing together founders, investors, companies and students on the campus of EBS University Rheingau. The Entrepreneurship Congress will take place from 23 to 24 September 2022. This year's edition is themed "StartUp the future" and aims to incentivise the future impact of innovative ventures.
More information about the Forum can be found on the event's website: https://ebspreneurship.de/index.html.
The aim of the Sustainability StartUp Pitch Competition is to showcase talented founder-teams and their start-ups in the field of sustainability. Five pre-selected teams will pitch in front of a jury and compete for prize money of €2,500 (1st place), €1,500 (2nd place) and €1,000 (3rd place) and €500 (4th and 5th place respectively).
The following application criteria apply:
The StartUp is dedicated to solving a problem in the field of sustainability.
By this we understand: young companies that want to improve the world sustainably through the benefits of their products or services. Basically, we are addressing all StartUps that contribute to achieving the Sustainable Development Goals (SDGs). Of particular interest to us are topics such as the circular economy and resource conservation, especially – but not exclusively – against the background of our sponsor COSNOVA, the company behind the essence and Catrice brands, for the packaging of decorative cosmetics of the future.
The StartUp is in an early phase (more than an idea, maybe first grants or angel rounds, but before the first significant investment round).
Are you interested in participating? Apply via the online form below with your strong pitch deck by 29 August 2022.
For more information, please contact us at hallo(at)gf-rheingau.de.
Cover photo: Christopher Campbell on Unsplash